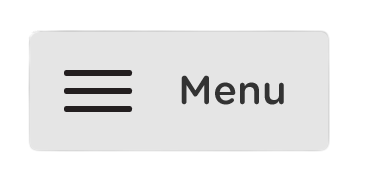 Event Reports
Annual Diocesan Convention 2022
The Annual Diocesan Convention was held on December 29th and 30th, 2022 from 7:00 to 8:30 PM each day at the Carmel Mar Thoma Center, Atlanta. Rev. Dr. Anna Carter Florence, Professor of Preaching at Columbia Theological Seminary, Decatur, GA, was the main speaker. The theme for the convention was Rekindle: Restoring Hope to Our World. The convention was also live-streamed through the Mar Thoma Media online platform. Rev. Dr. Anna Carter Florence provided two eloquent and encouraging messages that rekindled the hearts and minds of all participants to live with hope and faith in the New Year.
The First Diocesan Young Families Fellowship Wellness Retreat was held on December 29th to 30th, 2022 at Carmel Mar Thoma Center, Atlanta. The theme for this years retreat was Rekindle: Restoring Hope to Our World. The sessions were focused on the physical, mental, and spiritual wellness of young families. Many young families came together to share their spiritual experiences and to spend time understanding the value of Christian fellowship. This initiative is the vision of our beloved Diocesan Episcopa, Rt. Rev. Dr. Isaac Mar Philoxenos Thirumeni, and this program will continue in the coming years. Rt. Rev. Dr. Isaac Mar Philoxenos Episcopa, Dr. Raj Nadella, Rev. Biju P. Simon, Rev. Jaisen A. Thomas, Mr. Tom Philip, Dr. Binu Chacko, and Mrs. Betsy Chacko led different sessions on various topics. Rev. Sonu Varughese serves as the Diocesan Young Family Fellowship Vice President, and Rev. Jaisan A. Thomas and Mr. Tom Philip served as the Conveners for the retreat. Rev. Saju Samuel C., Mr. Shyno Thomas, and Mr. Chris Thomas made necessary arrangements in Atlanta. The talks were very meaningful, and it was a blessed experience for all the attendees.
"Finally, brothers and sisters, rejoice! Strive for full restoration, encourage one another, be of one mind, live in peace. And the God of love and peace will be with you". 2 Cor. 13:11 Praise the Lord!
Mission is the work of God and it is the power to bring healing and hope to the world. It is an act of faith that encourages restoration and renewal. Over the course of the last many years, our Diocese has strived to engage in His mission both within and outside the church. It is to this high calling, to see what often goes unseen, to hear what often goes unheard and to serve with a heart of love that strengthens the witness of Christ in our relationships and the world. Towards this end, the first ever Diocesan Wellness Retreat focused on addressing, engaging and equipping families and individuals towards holistic health was launched this past December 2022 under the leadership of our Diocesan Bishop, Rt. Rev. Dr. Isaac Mar Philoxenos Thirumeni.The Wellness Retreat was hosted by Diocesan Young Families Fellowship at the Carmel Mar Thoma Center in Atlanta, GA from December 29 – 30, 2022 reflected on the overarching theme, "Rekindle: Restoring Hope to our World". There were over 75 participants and clergy from across the country including individuals, couples and families with children. A breadth of topics and workshops with group discussions for adults and families were conducted. The adult sessions were led by Dr. Raj Nadella, Rev. Biju P. Simon, Mrs. Betsy Chacko, Dr. Binu Chacko and Rev. Jaisen A. Thomas. They offered meaningful and in-depth interactive studies on topics such as anxiety, communication, stress, anger management, parenting and a Biblical understanding of wellness. The children's session was led by Mrs. Neethi Prasad who actively engaged the children in song, music and Biblical lessons. Additionally, several mental health professionals were available throughout as resource and support persons. In the evenings, the participants also attended the Diocesan Convention with powerful messages offered by the renowned Dr. Anna Carter-Florence. It was wonderful time of open and candid engagement that yielded opportunity for growth and health. The initiation of this novel ministry was the vision of our Philoxenos Thirumeni to reconnect families and individuals to God and each other while promoting health and wholeness in their lives. Thirumeni was completely involved in the retreat and carefully planned every aspect of the program to be relevant, effective, and memorable for all the participants, even when it came to the food by hiring Chef Michael Holcombe to specially prepare all meals in-house. The Diocese is very grateful to God for the passion Thirumeni has for the advancement of His kingdom in creative and meaningful ways. The retreat was incredibly rewarding to all who attended and has truly rekindled hope for the present and direction for the future.
This Wellness Retreat marks the start of an ongoing series of wellness workshops, seminars and events to be organized across the Diocese. In every region, such programs will be conducted according to the needs of the respective community. It is a dynamic mission to reach and connect with all people and families in new ways. This is a bold step of faith to rekindle and fan the flame of the Spirit in our personal lives, relationships, and church. We praise and thank God Almighty for the wonderful retreat and look forward with great expectation to the ways in which God will continue to work in this initiative! We offer our sincere gratitude to our Diocesan Bishop, Philoxenos Thirumeni for all the guidance and support.
We are also thankful to our Diocesan Secretary, Rev. George Abraham, Diocesan Program Manager, Rev. Christopher Phil Daniel and Diocesan Young Families Fellowship Vice-President, Rev. Sonu Varghese. We also want to express our thanks to local coordinators including, Rev. Saju Samuel, Mr. Shyno Thomas and Mr. Chris Thomas. Thank you also to the many others who stepped up to volunteer in whatever need presented itself. As the retreat convenors, we were just blessed to be part of what God was doing and are excited about what
God will continue to do in the days ahead through this initiative.
Mr. Tom Philip & Rev. Jaisen A. Thomas
The 2022 CMRC virtual Christmas Carol program, Follow The Star will be held on Tuesday, December 27 at 7:30PM (EST)/5:30PM (MST)/4:30PM (PST). Our Diocesan Bishop, Rt. Rev. Dr. Isaac Mar Philoxenos will bring the Christmas message. A YouTube link is being sent to you.
The 2022 CMRC Xmas co-ordinating committee members are Mr. Daniel Jacob, Mr. Bijoi Plavilayil, Mr. Aju John (Trinity MTC Edmonton), Mr. Oommachen Mathew (St. Mathews MTC) and Mr. Reji Alex (Ottawa MTC).
This year the program is being hosted from Western Canada with Trinity Mar Thoma Church, Edmonton taking the lead in putting things together. The church IT team lead by Mr. Daniel Jacob and assisted by Mr. Bijoi Plavilayil and Mr. Aju John are working to have things in place for December 27.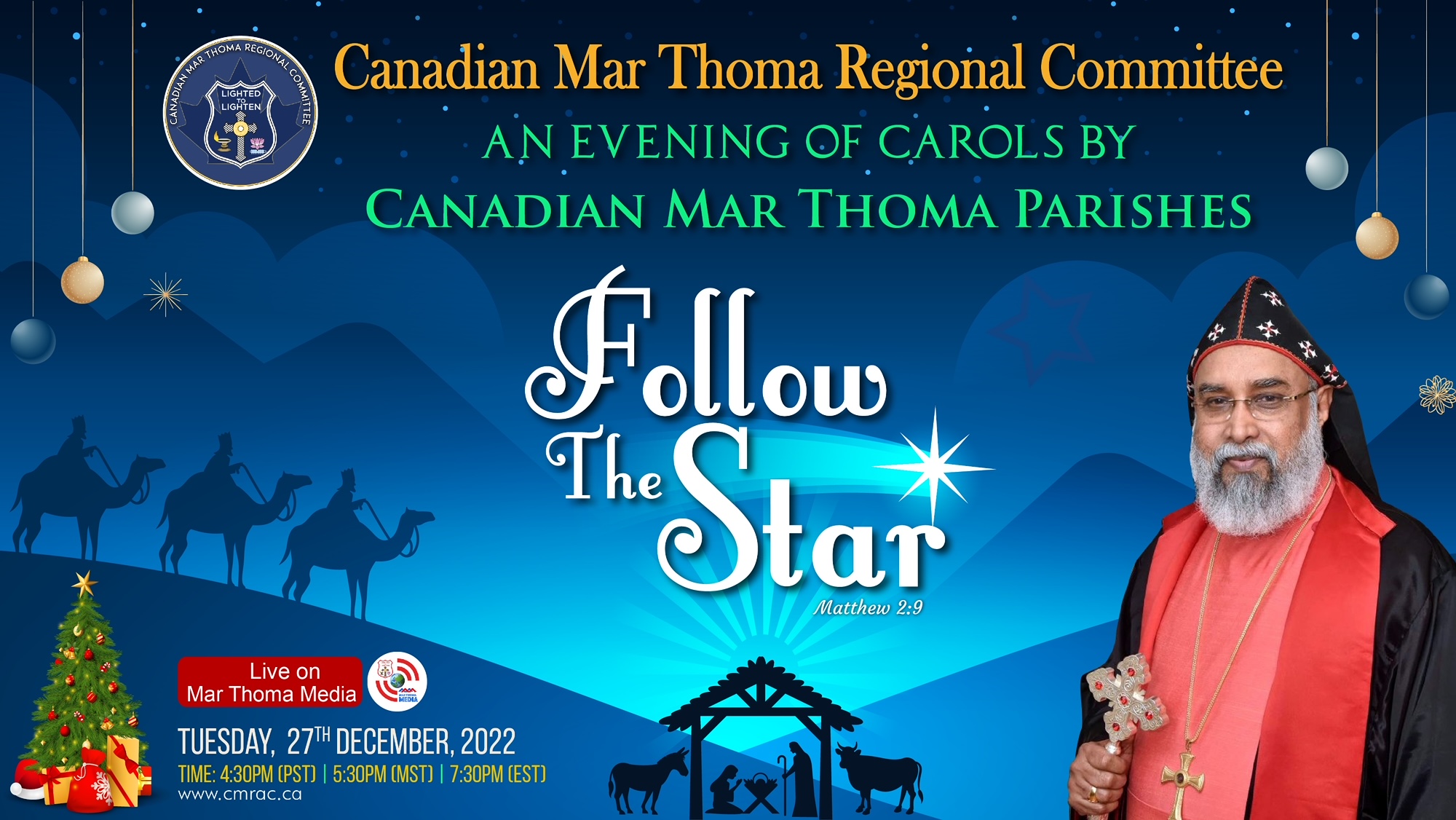 Suvishesha Nidhi
Nov 11, 2022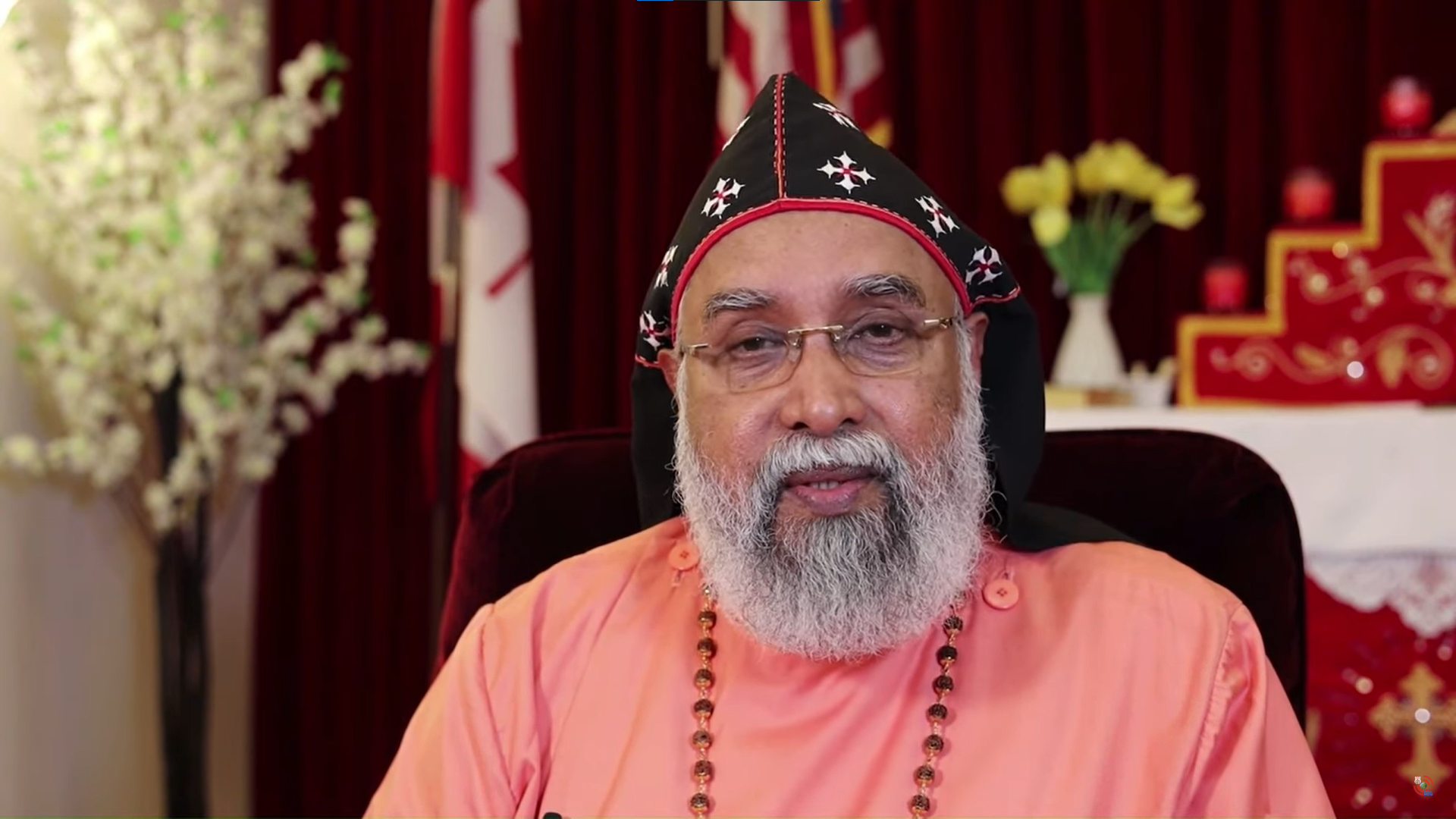 20th Diocesan Sevika Sanghom Conference ---Oct 13-16th 2022
The 20th Diocesan Sevika Sanghom Conference was hosted by Mar Thoma Church of Dallas, Farmers Branch from Oct 13-16, 2022.The theme of the conference was "Women: Mentors of the New World(John 20:17). Almost 410 women representing 40 churches,and the clergys and their family of our Diocese attended the conference. The conference began in the evening of Oct 13, with the procession andthe opening worship by the Sevika Sanghom members of the host parish. Conference General Convenor, Mrs. Elizabeth John welcome all the leaders, speakers and the delegates to the conference. After the presidential address by our Diocesan Bishop, Rt. Rev. Dr. Isaac Mar Philexenos Episcopa, conference was officially inaugurated by His Grace Most Rev.Dr. Theodosius Mar Thoma Metropolitan. Dr. Anne Mathews-Younes, Grand daughter of famous Maramon Convention Speaker, Late Dr. Stanley Jones was the keynote speaker, and Rev. Dr.Eapen Varghese, Dr. Elizabeth Jacob and Mrs. Shiji Alex was the main speakers of the conference. There was a video presentation of the CWU leadership seminar attended by 8 women of our diocese in Puerto Rico and the first conference started in Dallas in the year 2000. Video felicitations by Rt.Rev. Dr. Abraham Mar Paulose Episcopa and Rev. Gigi Mathew also shown during the inaugural meeting. Following the inauguration, the host parish presented the theme, including media, videos, slideshows, dance and skit.
On Oct 14th and 15th, morning and evening worship services were led by various Regional Units. The main speakers lead inspiring session based on the theme and on both days time was set apart for intercessory prayer. A special program "Memoir" was lead by very Rev. Dr.Cherian
Thomas and Mariammma Kochamma from Newyork shared her 50 years life experience in this country. The conference Program committee acknowledged all the senior women, above 80 years and also those women who are in this country more than 50 years by giving them Ponnada. There was a Business meeting of the Diocesan sevika sanghom chaired by our Diocesan Bishop and also Diocesan Mission outreaching program by Mrs.Nirmala Abraham, special talk by Honorable Judge Mrs. Tammy Kemp, Dallas, Health and preventive care talk for women by Mrs. Liffy Cherian , devotional talk by Dr. Elsy Mathew, and a special interactive session with our Metropolitan. On Oct 14 th evening, sevika sanghom members from their respective parishes participated cheerfully in the talent night program. The Diocesan Sevika Sanghom Vice President Rev. Thomas Mathew P, lead the witnessing and dedication service on 15th evening.
Our Metropolitan celeberated the Holy Qurbana on sunday, Oct 16th at Mar Thoma Church of Dallas, Farmers Branch. Following the service, Conference closing session was held and Conference Secretary, Dr. Anju Bijili did the vote of thanks. Conference end with Metropolitan prayer and benediction. Even in the midst of uncertainty and fear of Covid 19 pandemic, all who attended thank and praise God Almighty for a blessed Conference.
Mrs. Elizabeth John
Conference General Convenor
Annual Clergy Conference 2022
The Annual Diocesan Clergy & Family Conference of the Diocese of North America and Europe was held from October 12–13, 2022 at the Mar Thoma Church of Dallas, Farmers Branch.The theme of the conference was 'Pastoral Integrity: Aligning Word, Work and Witness'. Most Rev. Dr. Theodosius Mar Thoma Metropolitan inaugurated the session and gave a challenging address, encouraging the clergy to understand the dynamics of ministry within the diaspora context and make the ministry more meaningful. Rt. Rev. Dr. Isaac Mar Philoxenos Episcopa delivered Presidential Remarks and gave graceful leadership throughout the conference. Thirumeni shared various concerns and programs in the diocese and encouraged clergy to do their part by leading, involving, and sharing the programs.Rev. Rev. Thomas K. Mathew, Rev. Aby M. Thomas Tharakan and Dr. Anne Mathews-Younes led the main talks. Their presentations were well-prepared, challenging, thought-provoking, and instructive. Both presentations very much exposed the theme. After the talks, there was a time for responses, utilized for discussion and reflection.
Warm Welcome accorded to His Lordship Most Rev Dr Theodosius Mar Thoma Metropolitan NAE
October 09th, 2022
MIMC 110: Effective Ministry in North America